White Privilege Conference 
Cedar Rapids, Iowa
Wednesday, March 20th – Saturday, March 23rd, 2019
Registration starts Jan. 1, 2019
https://www.whiteprivilegeconference.com/wpc20
Understanding, Respecting, & Connecting
The WPC provides a challenging, collaborative and comprehensive experience.  We strive to empower and equip individuals to work for equity and justice through self and social transformations.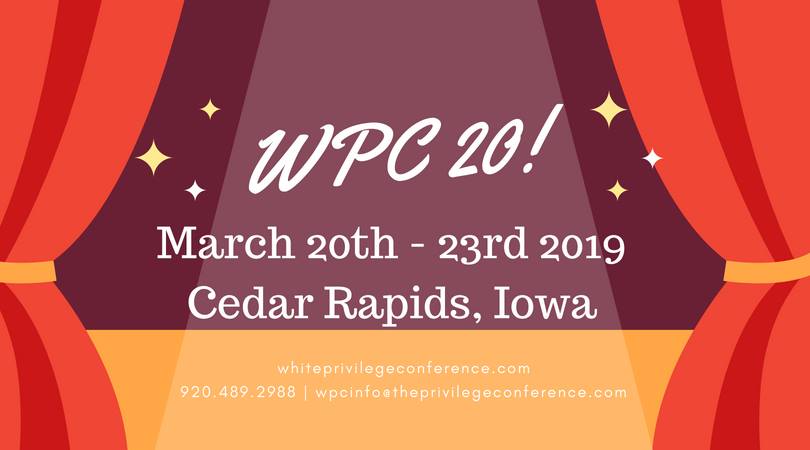 WPC20 in Cedar Rapids, IA
    #SaveTheDate! Please join us for #WPC20IA. Registration opens January 01, 2019. We are celebrating our 20 year anniversary in 
Cedar Rapids, Iowa, March 20-23, 2019
.
Book your room now at the host hotel, the 
Hilton Double Tree https://doubletree3.hilton.com/en/hotels/iowa/doubletree-by-hilton-hotel-cedar-rapids-convention-complex-CIDCCDT/index.html
 and share this information with coworkers, friends, students, and anyone else that would benefit from the WPC experience. Lastly, it is also never too early to think about becoming a 
WPC20 sponsor
.
    Additionally, please plan to join us for our very special #WPC20 Gala Fundraising Dinner with our host 
Dr. Yusef Salaam
 and edu-tainment featuring new music from 
Jasiri X 
and much Moore! This will be an event not to be missed! #SpreadTheWord