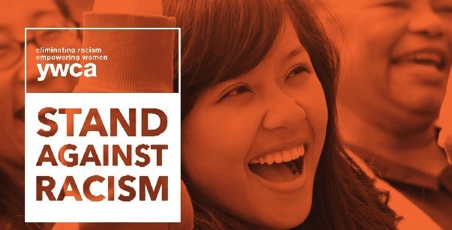 STAND AGAINST RACISM
Thursday, April 26, 2018 12:00-12:30 p.m.
at the following locations:
•The Rock County Courthouse, JANESVILLE
•Harry C Moore Pavilion, Riverside Park, BELOIT
•YWCA Rock County Child Care Center 11:00 am
Join the YWCA Rock County on April 26th, 2018 to make a pledge to STAND AGAINST RACISM. Stand Against Racism is a signature campaign of YWCA USA to build community among those who work for racial justice and to raise awareness about the negative impact of institutional and structural racism in our communities.  This year's theme is Women of Color Leading Change. Join YWCA staff, community members, and community leaders to hear local women share their stories of leading change.
Read the Stand Against Racism Pledge:
OUR PLEDGE AGAINST RACISM
As individuals committed to social justice, we stand with the YWCA Rock County against racism of any kind. We pledge to challenge any expression of racism in our presence by our family, our friends, our co-workers and those we encounter.  We will commit to a lifetime of promoting peace, justice, freedom and dignity for all people in our community and in the world.
WE PLEDGE TO
  Challenge racial slurs
 Examine our own language for unconscious bias or stereotypes
 Recognize and avoid using language that reinforces stereotypes
 Learn more about and appreciate the richness of other
cultures and respect holidays and events